Make every day a Hay Safe Day!
Tuesday, 25 October 2022
It's National Hay Safe Day, and as many in the fodder industry face serious weather challenges and damaging flooding, it is timely to reflect on safe practices when working and living around bales of hay and silage.
Each year AFIA celebrates National Hay Safe Day to draw attention to safe work practices across the fodder supply chain when working with hay," said Brad Griffiths, AFIA's Chair.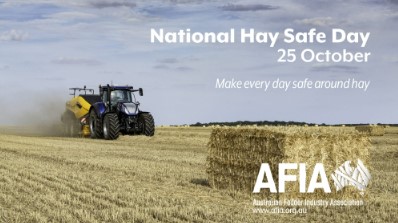 Link below to full AFIA news article:
https://afia.org.au/make-every-day-a-hay-safe-day