Seasonal Averages
The following tables show the mean and range of quality measurements for pasture hay, cereal hay, canola hay, legume hay, silage, and cereal grain over the last eight seasons.
AVERAGES - Concentrates 2022/23
AVERAGES - Silage & Fodder Beet 2022/23
AVERAGES - Concentrates 2021/22
AVERAGES - Concentrates 2020/21
AVERAGES 2018/19 - FIRST QUARTER
AVERAGES 2016/17 - FIRST QUARTER
AVERAGES 2015/16 - FIRST QUARTER
AVERAGES 2013/14

AVERAGES 2013-2014 - FIRST QUARTER

AVERAGES 2012-2013

AVERAGES 2012-2013 - FIRST QUARTER

AVERAGES 2011-2012

AVERAGES 2010-2011

AVERAGES 2009-2010

AVERAGES 2008-2009

AVERAGES 2007-2008

AVERAGES 2006-2007

AVERAGES 2005-2006

Please Note: This information is produced using data from FeedTest records, derived from samples as submitted by clients. FeedTest produces these tables for the information of clients merely to demonstrate the range in quality which can occur for a given type of feed.
Sampling Instructions
FeedTest will provide an accurate analysis of your sample however, it is vital that the sample is representative of the feed being tested, especially for hay and silage which can be highly variable.
Download the Sampling Instructions

AFIA Grading System
AFIA, in conjunction with AQIS, are working together to enhance domestic and export trade requirements and regulations. Since incorporation, AFIA's achievements include the adoption of national hay grades (which are recognised by the National Agricultural Commodity Marketing Association NACMA), common quality testing methods, industry representation, adoption of Vendor Declaration Forms and industry communication.
With the need to align quality feed to quality livestock and milk production AFIA has initiated the use of Vendor Declaration Forms. These are made available free to members and provide a valuable tool to consumers by documenting the quality of product being supplied. This is one of the tools AFIA provides to boost confidence in fodder products.
The need for a common fodder description, language or grading system has been initiated by the AFIA.
The grades relate fodder quality (hay and silage) and to livestock performance and are based on objective measurements. They allow both buyer and seller to instantly recognise quality by means of a simple alpha-numeric code. The grade can appear on fodder analysis reports and on the Vendor Declaration Forms.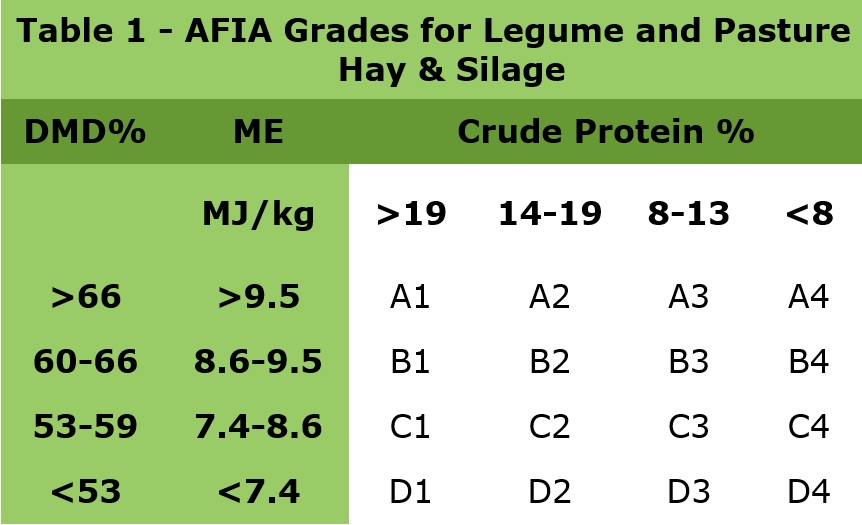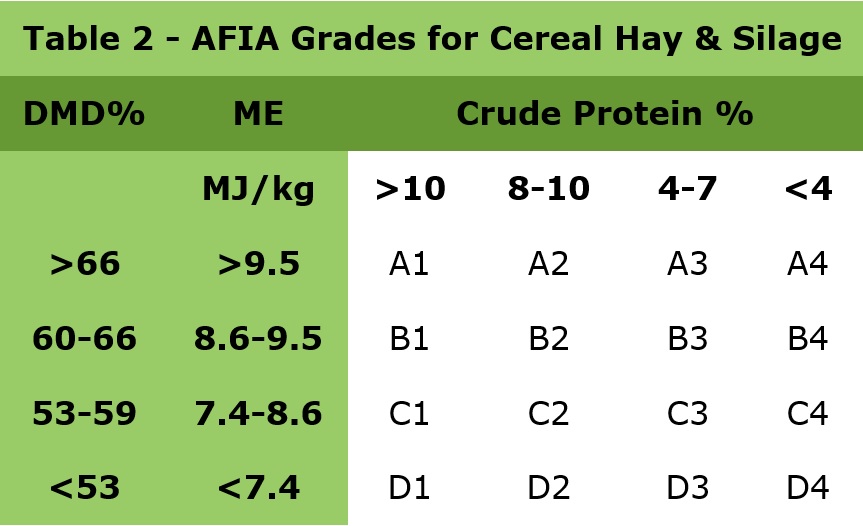 ME (MJ/kg DM) Metabolisable energy megajoules per kilogram of DM
DMD (%) Dry matter digestibility
CP (% of DM) Crude protein, % of DM
DM Dry Matter
Two separate grading systems have been adopted as shown in Table 1 and Table 2 above. These grades take account of the range in metabolisable energy and crude protein, which can occur in hay and silage and reflect the naturally lower protein content of cereal fodder.