RIRDC Report on the Fodder Industry - October 2014
Monday, 20 October 2014
FUTURE PROOFING FODDER QUALITY ANALYSIS FOR AUSTRALIA
In 2013 AFIA secured funding from RIRDC to compile a report into the current and future needs of the Australian Fodder Industry to deliver consistent, accurate, efficient and cost-effective fodder quality analysis services.
The report provides options for industry which might help to future proof Australian fodder quality analysis. The final report is available for purchase from the RIRDC website.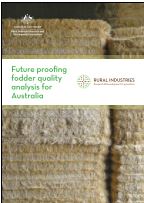 Please view the entire article below on the RIRDC website or to dowload the report in full.
https://rirdc.infoservices.com.au/items/14-076